Giants Legs - Cave Dive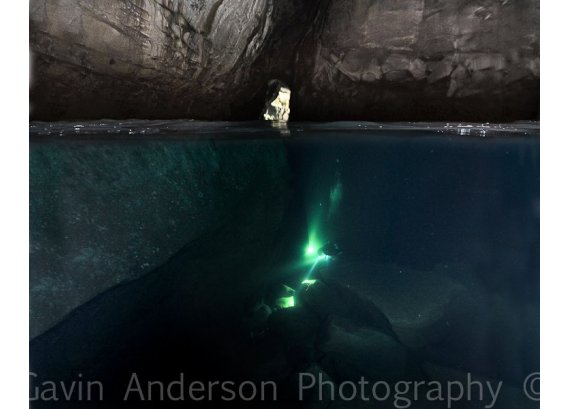 Dive Site Stats
| | |
| --- | --- |
| Type | Cave Dive |
| Date Built | 30/11/-0001 |
| Latitude | 60 06 .1N |
| Longitude | 01 04 .3W |
| Depth | 0-22m |
| Visibility | 8/10 |
| Currents | 5/10 |
| Technical | 5/10 |
| Sealife | 7/10 |
| Enjoyment | 10/10 |
A truly spectacular place to dive, stunning above and below, this is a cave that stretches 120 meters into the cliffs under the Giants Legs.
History
The Giants legs are situated at the southern end of the Island of Bressay know as Bard Head.
The Old Norse name for Bressay was Breiðey and then later in 1490 the island is referred to as Brusoy, the meaning of name in Old Norse means broad island.
Dive Guide
Basically we bring the nose of the boat to within a meter or so of the cliffs to give you a minimal swim.

The cave passage is quite narrow and opens up into a bigger cave and goes back some 120 meters. There is an air space most of the way until your right at the back of the system.
Wildlife
Lots of anenomes and nudibranch, crab, small shoaling fish and some quite large lobsters can be found. There is also some wreckage from an oil rig jacket that broke loose in a storm.

Seals can often be seen swimming in and out of the Giants Legs.