Gobernador Bories - Whaling Ship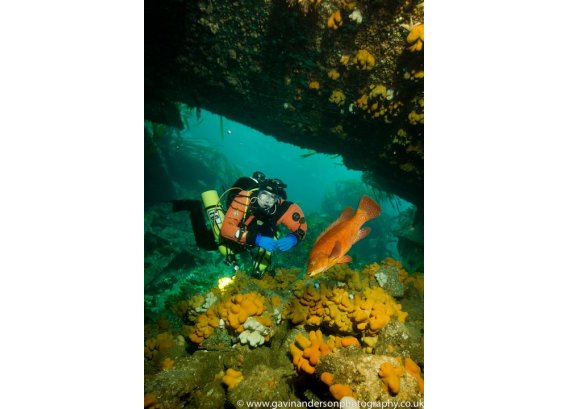 Dive Site Stats
| | |
| --- | --- |
| Type | Whaling Ship |
| Date Built | 30/11/-0001 |
| Built by | Grey, W.& Co West Hartlep |
| Length | 87m |
| Width | 11m |
| Tonnage | 2332 |
| Date sunk | 12/10/1914 |
| Fate | Scuttled |
| Latitude | 58.55.25 N |
| Longitude | 03.18.33 W |
| Depth | 10-18m |
| Visibility | 10/10 |
| Currents | 10/10 |
| Technical | 3/10 |
| Sealife | 10/10 |
| Enjoyment | 10/10 |
The Gobernador Bories makes for an excellent shallow second dive laying in around 15 meters of water. The water here is very clear and tidal and can only be dived during slack.
History
The Gobernador Bories worked as whaler and cargo ship in Chile, Argentina and the Falklands.

She was then purchased by the British Navy, and towed to Scapa Flow and was sunk as a block ship.

Unfortunately she didn't sink fast enough and drifted to her present position in deeper water were she was ineffective to be used as a block ship.
Dive Guide
The Gobernador or Goby for short, lays on her port side with her stern twisted over to starboard, here you can still see the huge iron propeller and steering mechanism.

The mid section has gone just leaving the ribs, boilers, engine block, the pistons can still be seen.
Wildlife
Lots of very friendly wrasse that expect to be fed with sea urchins from visiting divers, in fact if you don't feed them they will swim up and harass you until you do. Lots of small shoaling fish, sea urchins, crabs and lobster can all be found this area.