The Jane - Steamship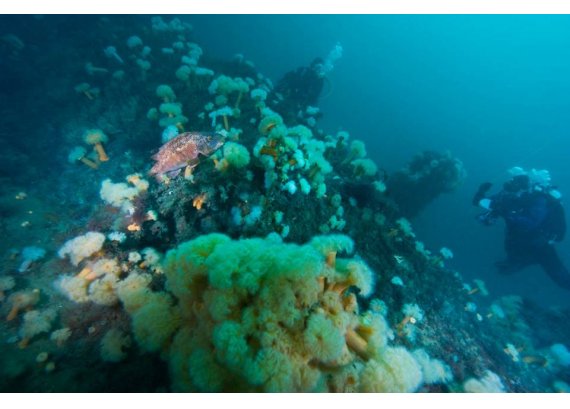 Dive Site Stats
| | |
| --- | --- |
| Type | Steamship |
| Date Built | 30/11/-0001 |
| Built by | Alexander Withy Of Hartlepool |
| Length | 60m |
| Width | 8m |
| Tonnage | 840 |
| Date sunk | 19/07/1923 |
| Fate | Ran Aground |
| Latitude | 60.38.21N |
| Longitude | 00.56.31W |
| Depth | 16-20m |
| Visibility | 10/10 |
| Currents | 10/10 |
| Technical | 3/10 |
| Sealife | 10/10 |
| Enjoyment | 10/10 |
A beautiful dive in very clear tidal waters that must be dived during slack.
History
This was a Swedish steamship formally named the Jane Croy.

On the 19th July 1923, she was at Baltasound where she had just taken on 475 barrels of herring and was en-route to Lerwick to pick up more cargo.

For some unknown reason instead of heading south, the pilot turned north into Bluemull Sound and tried to go around the north of Linga Island. She struck the rocks, one of the ships boats was lowered and her crew including a female stewardess was landed on Linga.

The vessel floated off and drifted in the current until she sank just a quarter of a mile south of the island of Gruney.
Dive Guide
This is a truly stunning little wreck laying in only 20 meters.

She lays on her port side, she is fairly broken up but the anchors, propeller and rudder are all in place.
Wildlife
This wreck is absolutely covered in marine life very pretty and makes for a very good scallop dive.