M.V. Mara - Dive Boat (ex Fishery Research Vessel)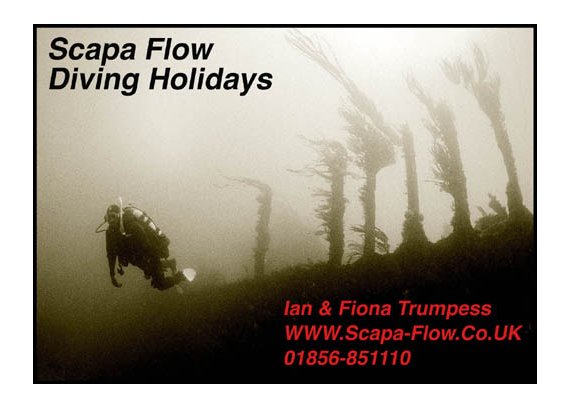 Dive Site Stats
| | |
| --- | --- |
| Type | Dive Boat (ex Fishery Research Vessel) |
| Date Built | 30/11/-0001 |
| Length | 22m |
| Width | 8m |
| Tonnage | 65 |
| Fate | Sank At Mooring During Ga |
| Latitude | 58. N |
| Longitude | 03. W |
| Depth | 10-18m |
| Visibility | 9/10 |
| Currents | 6/10 |
| Technical | 4/10 |
| Sealife | 10/10 |
| Enjoyment | 10/10 |
22 meter ex Scapa liveaboard dive vessel laying on her starboard side.
History
Once a fisheries research vessel, later owned by the YMCA she ran liveaboard dive charters out of Oban. I actually had a week aboard her myself way back when I was a member of the Oxford branch BSAC

She was later bought by George Litts and was used as a Scapa liveaboard.

Sadly she became neglected and was towed to Lyness Warf where she lay for some years until she finally broke her moorings and went over during a storm.

I was working for a local diving firm, we had got the job of moving her out to the F2 bouy.

We had all these huge 5 tonne lifting bags and the cutting gear ready, but as luck would have it one of the Scapa tugs turned up on site, keen for an easy life and a quick day Pip and Doug had a wee word with the skipper.

We fastened a heavy strop to the prop shaft and they dragged her out to her present position, job and knock.
Dive Guide
A nice easy dive, and a chance to practice your navigation, starting off at the Mara, take a compass bearing of around 270 degrees and a swim for about 80 meters and your at the F2, and another 20 meters from that and your at the salvage barge YC-21.
A good dive for collecting scallops and queenies.
Wildlife
Dead mans fingers, plumose anemones, small shoaling fish, conger, king and queen scallops, crab & lobster can all be found at this site.