Leonatus - Steamship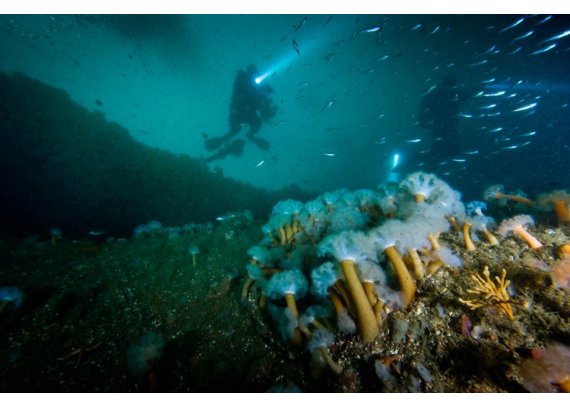 Dive Site Stats
| | |
| --- | --- |
| Type | Steamship |
| Date Built | 30/11/-0001 |
| Built by | Richardson, Duck & Co Of Stockton On Tees |
| Length | 88m |
| Width | 13m |
| Tonnage | 2099 |
| Date sunk | 12/12/1917 |
| Fate | Torpedeod |
| Latitude | 60.06.364N |
| Longitude | 01.06.05W |
| Depth | 52-60m |
| Visibility | 10/10 |
| Currents | 3/10 |
| Technical | 8/10 |
| Sealife | 8/10 |
| Enjoyment | 10/10 |
This is a lovely wreck laying in two parts upright in 60 meters of very clear water.

Her position is such than we can accommodate mixed groups of both air and Trimix divers in a single day.
History
The Leonatus was en-route from Swansea to Lerwick with a cargo of coal. At 09.00, 12th December 1917 she was torpedoed by the UC-40 two miles south east of the Kirkabister Lighthouse.

The survivors were picked up by a patrol boat and she was taken under tow but later sank at 12.45pm between Bard Head and The Ord.
Dive Guide
There is 45 meters of bow section that sits upright and fairly intact, the highest point rises up to 52 meters with her anchors still in place.

The upper decking has gone but the lower deck is still in place with a ladder that leads down to store rooms, containing spare glasses for portholes, crockery and tins of paint.

As you move aft you pass over a couple of sets of winches and the main hold full of coal.

The wreck is cut clean just forward of the engine room. There is a gap of around five meters between the two sections of wreck and remains of the bridge section is laying on the seabed.

The engine and boilers are all exposed and there is a spare propeller which stands higher than the surrounding wreck.

Next to the spare propeller there is a gun which has collapsed and is surround by shells.

As you move aft towards the stern the wreck rises up to around 52 meters with the hand rails in place and the main propeller laying at a depth of about 60 meters.
Wildlife
Covered in anenomies and dead mans fingers with large shoals of fish.