Gwladmena - Steamship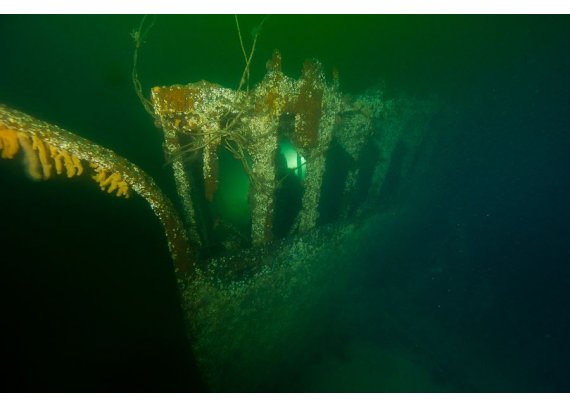 Dive Site Stats
| | |
| --- | --- |
| Type | Steamship |
| Date Built | 30/11/-0001 |
| Built by | Irvine R & Co, West Hartlepool |
| Length | 67m |
| Width | 9m |
| Tonnage | 928 |
| Date sunk | 02/01/1918 |
| Fate | Collision |
| Latitude | 60.08.12 N |
| Longitude | 01.08.38 W |
| Depth | 34-39m |
| Visibility | 10/10 |
| Currents | 1/10 |
| Technical | 7/10 |
| Sealife | 8/10 |
| Enjoyment | 10/10 |
Classic iron steamship laying upright in 39 meters of none tidal water.
History
The Glwadmena was formally named the Mary Hough and also the Maggie Warrington.

She was coming into Lerwick with a cargo of coal when she collided with the Danish Steamship Flora.

Her crew of 21 were all saved.
Dive Guide
This wreck is normally always buoyed at the bow which points in a northerly direction.

The bows rises to around 34 meters, the focsle is open and contains hoses, paint tins and coiled hawsers.

There is a wooden mast laying on top of the wreck.

She has two boilers and the engine block has been dragged over on it's side.

The propeller was salvaged.

There is a winch which lays on the seabed along with the port anchor.

There is a gun laying on the seabed of the starboard side along with some shells.
Wildlife
Covered in life with different species of crab, hydroids and dead man's fingers and plumose anemones. Large shoals of herring and saithe, pollock, cod and wrasse can all been seen.