A Weeks Scuba Diving in Shetland
published: 23:49:13 29/07/2017
Traveling to Shetland
Setting off from Manchester we heading up to Aberdeen where are connecting ferry sets off to Lerwick Shetland. We had a trouble-free journey to Aberdeen the scenery of Scotland is beautiful and is different from the west coast and the north of Inverness which is nice to see such a varied country side in Scotland . The journey time compared to traveling to Scapa Flow is a lot shorter due to the catching the the over night ferry in Aberdeen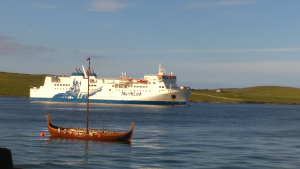 The Aberdeen ferry itself is very modern double the size of the Hamnavoe the ferry used to get to Scapa Flow which makes the journey very feel very stable and most of the way feels like you're not on a ferry at all because there is hardly any movement the food on board was very nice and fulfilling the fish and chips which tasted very very fresh. on the ferry I decide to take a bunk in a cabin I was a bit apprehensive of booking this cabin in first place thinking that it will be very hot and stuffy and be able to sleep however I'd found that the public areas were hot and stuffy compared to the cabins which were quite cool and easy to sleep in also I found the cabin when in your cabin you could hardly hear the engines during the night which was a good thing to get a good night's sleep as we would be diving that the following day the next morning.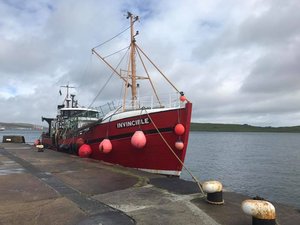 The next morning after want to be pulled into Lerwick Shetland we headed to the MV invincible to meet Ian which was on the other side of town once we arrived at the boat we met up with Ian we started kitting up and had so me breakfast read for out first dive of the week.
This is now the third time I have been on the MV invincible skippered by Ian and each time I come on to the boat it is nice to see that the boat has been kept modern and upto date with new features then visit the new additions were rubber matting on the deck more safety rails to hold onto as you getting ready to go diving bigger portholes in the mess room refitted kitchen more variety in the meals to name some of the new things on-board.
Wreck Diving in Shetland
Diving in Shetland is quite varied on what you can dive kind of diving there is from wreck, Scenic, drift, cave and cliff diving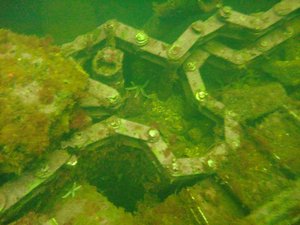 Wreck diving is quite varied in Shetland you can dive on with a verity of wreaks, that include Fraoch Ban a fishing Trawlerwhich has a fascinating bridge as you can still see all the electronic navigation equipment still in place.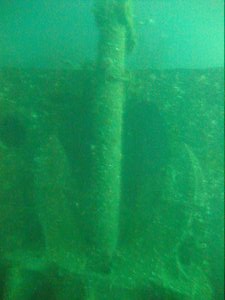 The Pionersk which is a modern fishing factory ship sunk in 1994 with loads of artifacts still on board that include tops of cans which make great frisbees also theres alot of stainless steel and part of the factory laying around. The Lunokhods-1 a Russian Factory ship which is on a wall face starting at 30m and finshing in a cave this a a great dive due to having massive cargo holds at the deapest part and as your going up the hill decoing there more of the wreck which make the deco fly by. The Glenisla and Gwladmena 2 steam cargo wrecks which and quite open and are a quite an enjoyable dives. A German Uboat E-49 - Submarine which is on a sandy bed she is 54m long and we could see the whole length of the sub.
Scenic Diving in Shetland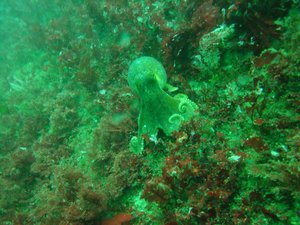 In Shetland there is also the opportunity to dive on beautiful Scenic dive are quite spectacular due to the verity Shetland has to offer you can dive in and around Cliffs cave diving like Giants Legs and Noss Head drift diving reef diving and of course scallop diving.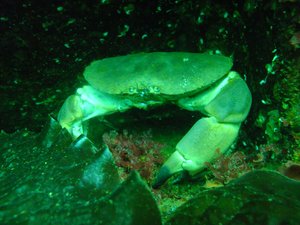 Diving around Shetland the visibility is very good some of the best visibility I have seen in the UK water temperature ranges from about 10 to 14 degrees there are a lot of wildlife around Shetland quite frequently in on decompression stop we was visited by schools of fish of various kinds including cod and rasp and during the dive we encountered quite a lot of Wildlife such as seals starfish Dead Man's fingers cod Rasp lobster octopus crab flatfish to name a few
Exploring Lerwick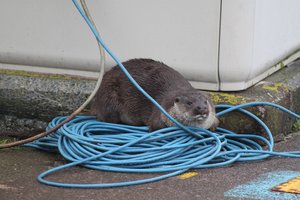 Lerwick was our base for the week living on board the MV invincible the first thing that struck about Lerwick is that it was very clean no litter no rubbish Clean Streets no graffiti a very pleasant place to be compared to the big cities such as Manchester London Birmingham Edinburgh Glasgow. Lerwick is the main town in Shetland it is a thriving place with lots of shops businesses industry and what's going on which i did not expect. where we was moored up in the evenings we was only five minutes walk from the nearest pub and food which made it very very convenient the pubs have a variety of of characters but it all very pleasant to drink in also there are a number of takeouts such as chip shops Indian Chinese American Nepalese and even a very nice steak house.
It is well worth exploring Lerwick if you head South there is a lovely coastal walk which is a good few miles going through various coves and beaches with spectacular views and lots of wildlife including seals and otters playing along the coast. there is also quite a lot of the remains of World War II defense structures, in one of the bays you can see the parts of a broken up wreck and steel riveted girders and hull plating dotted around.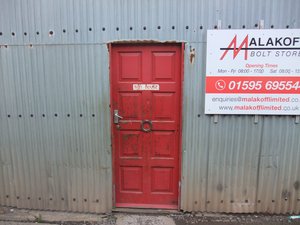 Heading North in Lerwick is where the main area where all the shops and pubs are based is you carry on walking you will come to the local fish auction house based on the Quayside where there is two to three regular seals waiting for cast offs from the day fishing it's quite interesting to spend some time there watching the Seals begging for fish going slightly more North you end up in a boatyard where there is a building called the call the nut house where more of the industry is is located and if you carry on walking you'll end up at the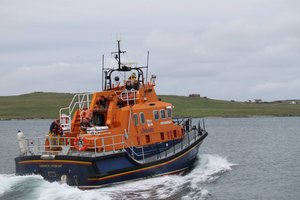 Shetland Museum which gives you a history of Shetland throughout the ages heading back to where the MV Invincible is moored up as you're chilling out on the boat you can frequently see wildlife such as seals popping by and otters feeding on the Quayside and the next to us is where the RNLI lifeboat is moored and if you are as lucky as we was you can get to go and have a tour around this fabulous boat and even invited on their training exercises which is one incredible experience I would highly recommend doing.
In summary diving in Shetland is highly recommended below water for the variety of Diving you can do from Scenic diving to wreck diving at various depths. and above water for the variety of things you can get up to see I'm just a pleasant place to be in I would highly recommend taking a diving trip up there you will be pleasantly surprised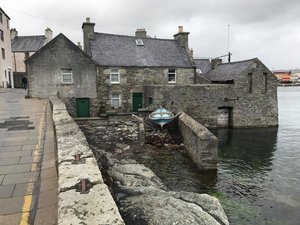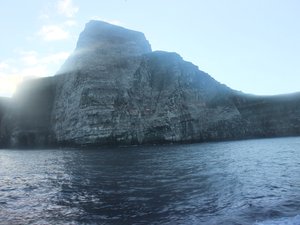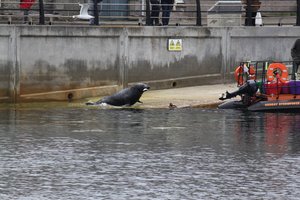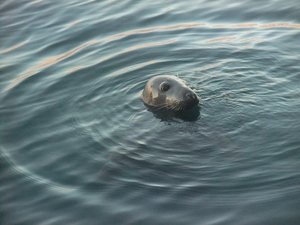 To see more pictures on Shetland 2017 click here